So a few major events have happened in last month. C&C Generals 2 was transformed into a Free2Play Command & Conquer, The Ultimate Edition is coming out to celebrate 17 years of C&C (so much for The Second Decade and stuff beyond that) and..
Ares 0.2 has been released!
That's right! Just a few days ago,
AlexB
finally released 0.2 version of the superimportant expansion DLL for Yuri's Revenge. Why aren't you modding yet? Watch
this
and
this
to learn more about Ares 0.2
Does that mean Mental Omega 3.0 can be released now? No. Not yet. We need slightly more than that, specifically the
save/load
function to make our new campaigns playable. As all testers agree, you REALLY need this function to make through the new,
sometimes
-impossible, missions (of which there are 36 planned for the first release of 3.0). But we're really progressing nicely. We have a lot done now and when all prerequisites are met, 3.0 will be released, with 9 subfactions, lots of new maps, game modes and campaigns for Allies, Soviets and Yuri.
Status update aside, it's time for the September 2012 Media Update! We've shown you all heroes in our
Hero Spotlight series
. Question is, now that Volkov is the Russian hero, are we going to have a hidden commando in 3.0? Yes. This individual:
Coming straight from
Azri_Apoc's
War Factory, here are the new and updated units:

Epsilon Cargo Plane



Tyrant



Catastrophe Tank



Tsurugi Powersuit



Voyager



Zubr



Kirov Airship
With this update, all T3 monster tanks are now complete. Group picture!
As you can see, two units which have been previously missing on the
Allied Units
page are now finished and the page has been updated with their pictures as well. Throughout last two months, we've released two other pages too:
Soviet Structures
and
Soviet Infantry
information is now available. T3 defenses return for all sides in the game, with Hammer Defense by
Bu7loos
being the Soviet one.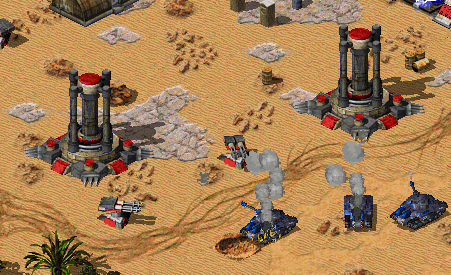 Thanks to
Bu7loos
, in Mental Omega 3.0 you'll also find a nice set of capturable tech defenses, as shown in this picture.
RP
is working on a map editor tool for Mental Omega 3.0. A modded version of FinalAlert 2: Yuri's Revenge version 1.02 that aims to fix several bugs like missing high bridges in Desert and adding new features, such as the missing AI scripts from Yuri's Revenge.
ImP_RuLz
is working on new infantry units and while we're not on Epsilon Infantry yet, we can show you what happened to the Nightmare from 1.2. In 3.0, this infantry unit will be known as
Stalker
and belongs to the Epsilon Headquarters.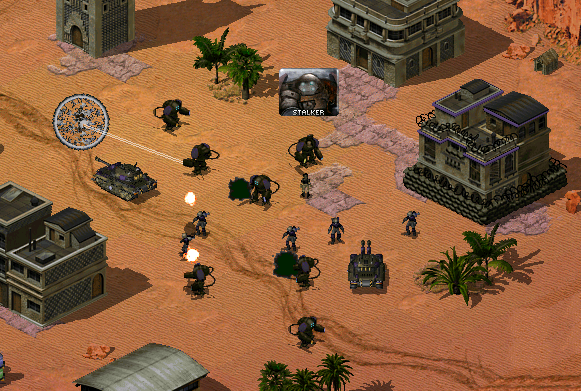 These are the effects of 'Ultimate Weapon' - the indestructible object which when captured and held for enough time in the new, but classic
King of the Hill
mode destroys all your enemies instantly.
Our friends from
CnC Minecraft
have crafted one of the iconic Epsilon units: the Shadow Tank. You can download it
here
. Check more of their Command & Conquer objects in Minecraft on their
PM Profile
.
And last, but not least, a new MO3.0 wallpaper from
iamn00b
, this time featuring the powerful Epsilon airship:
Basilisk
. Model by
SecondWtq
.


[ 1125x900 ] [ 1200x900 ] [ 1440x810 ] [ 1680x1050 ]
That's all for today. Stay tuned!